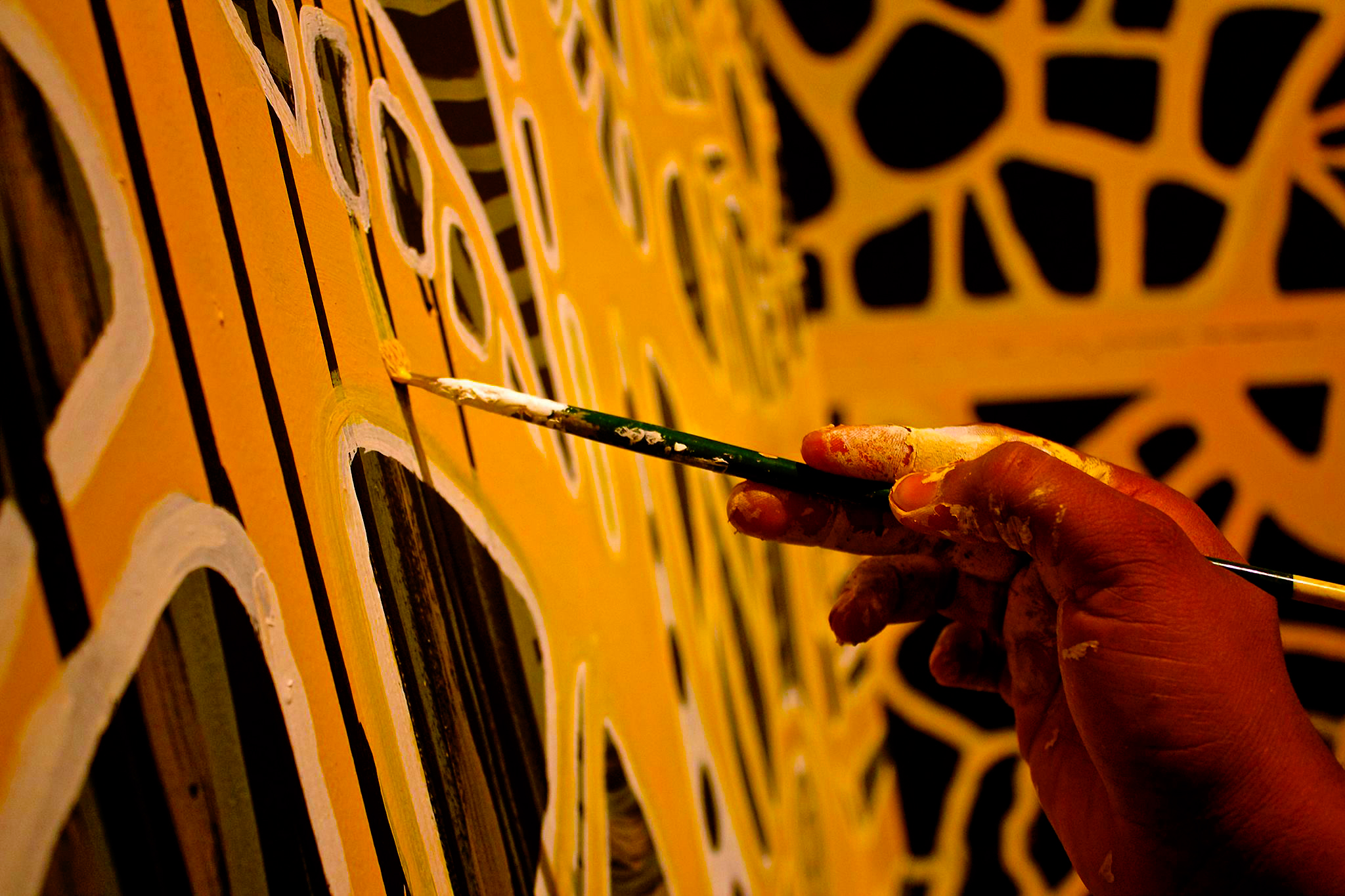 Brush In Hand- The Hand Of The Artist
Jackson Shuri's hand is photographed showing techniques and detail of the mural at hand.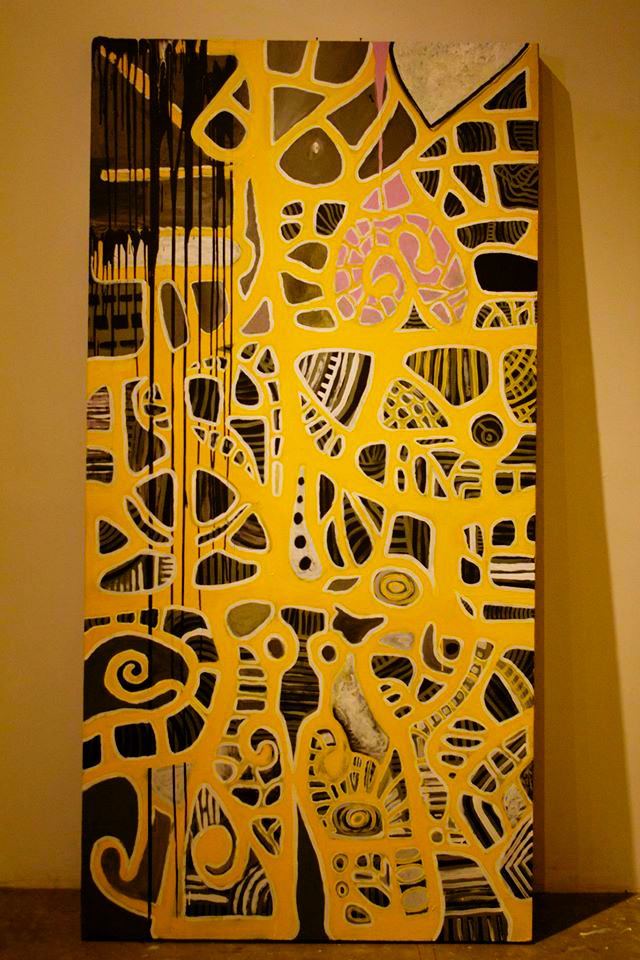 Matters Of The Heart 2013 Journey
The is an 8'x4'X5" work with yellow being the dominant color. Yellow is said to be the color of intellect. It is also the color of Hope, Joy and Spirituality. Yellow being in the family of Reds, is exciting to look at. Yellow enlivens the heart that's painted in a rather pale pink. This symbol that has come to represent the heart is painted upside-down to emphasize the the emotional state of the heart when intellectuals are drawn to matters of the heart. When one stops focusing on academics or intellectual operations, the heart starts to feel deeper emotions and an intellectual being one who often neglect the heart giving more importance to logic and brainpower is now suddenly out of place.
Move to the lower section of the image, here you see two shapes rendered in abstract fashion to imitate bottles. Imagine for a second, these are bottle of wine or one of your favorite spirits. Intellectuals do drink at time, but for the most part, they tend to avoid substances that may alter their abilities to think what they would call straight. Combining intellect with issues concerning the heart while drinking is bound to establish an odyssey filled with emotional excitement and illusions taking into account the effects of spirits on the human. This idea of the three combined is represented by the swirls and twirls and diagonal lines in the composition.
Each of Jackson's paintings are multi-layered and makes use of movement and moodiness that light provides. The multi-layered nature of this painting lends itself to Jackson's weaving and patterning designs. If you are looking at a multi-layered painting regardless of its dimensions, know that Jackson is weaving the human interaction. According to Jackson, humans and their ways are multi-layered, problematic and complex at best. Problems are always multi-layered, and needs to be examined as such.
When looking at a Jackson Shuri, you can't help but think feel tribal fabric! You would be right for doing so. Jackson is often inspired by fabrics, in particular, fabrics from West Africa and as such her designs are relevant to the African Diaspora culminating the Journey of-Matters for the heart 2013 Journey which debuted during Art Basel Miami 2013.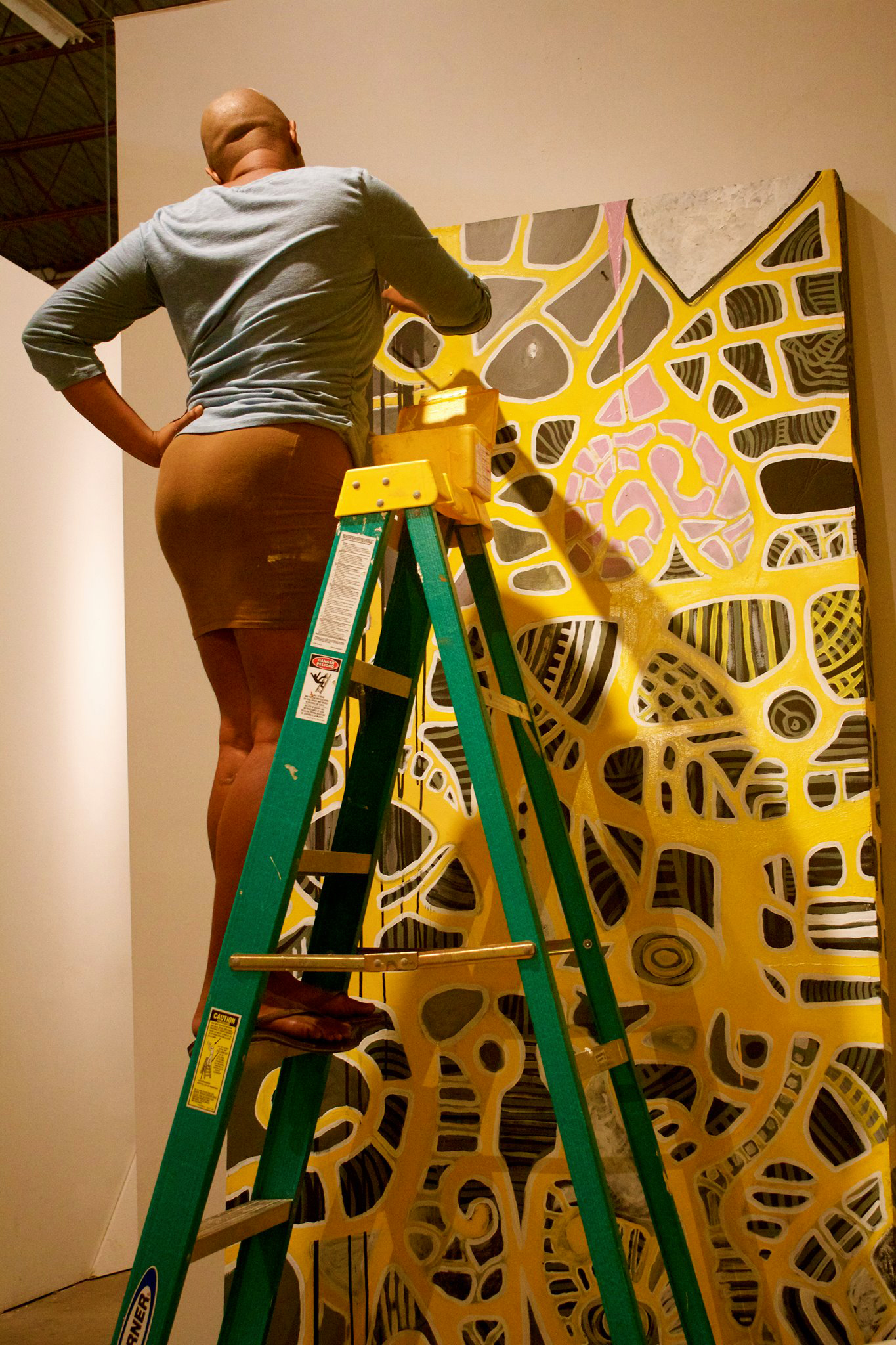 8'x4' Mixed Media on Wood 2013
Jackson Shuri in action putting the finishing touches on one of her eight feet by four feet creations . 2013. This was Jackson's first time using a ladder in the creation process.
Matters of the Heart - Back of Artist
Photographed to show the vertical Black lines of Gravity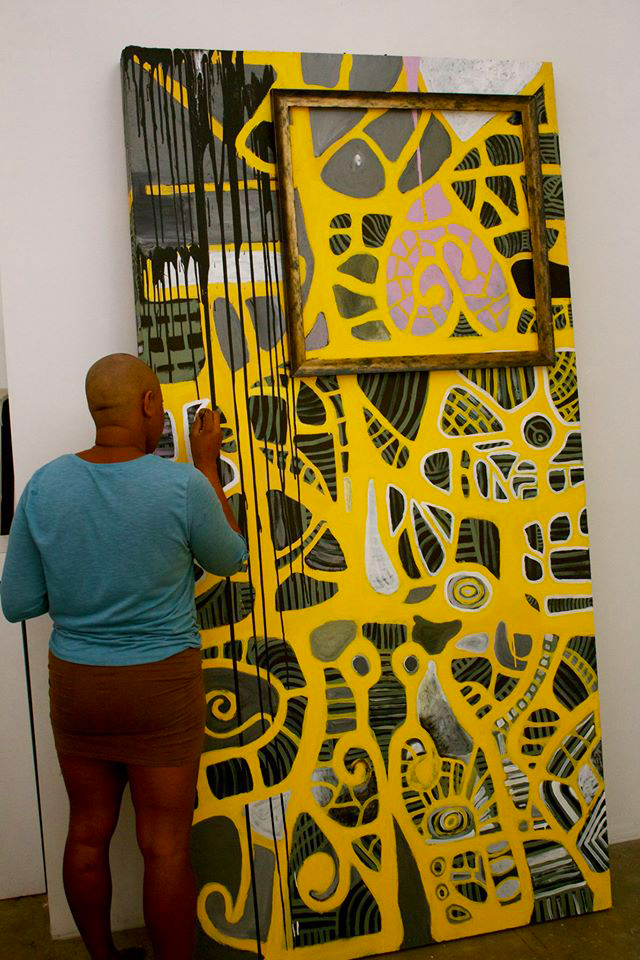 Matters of the Heart 2013
Side View Of JAckson Shuri in Action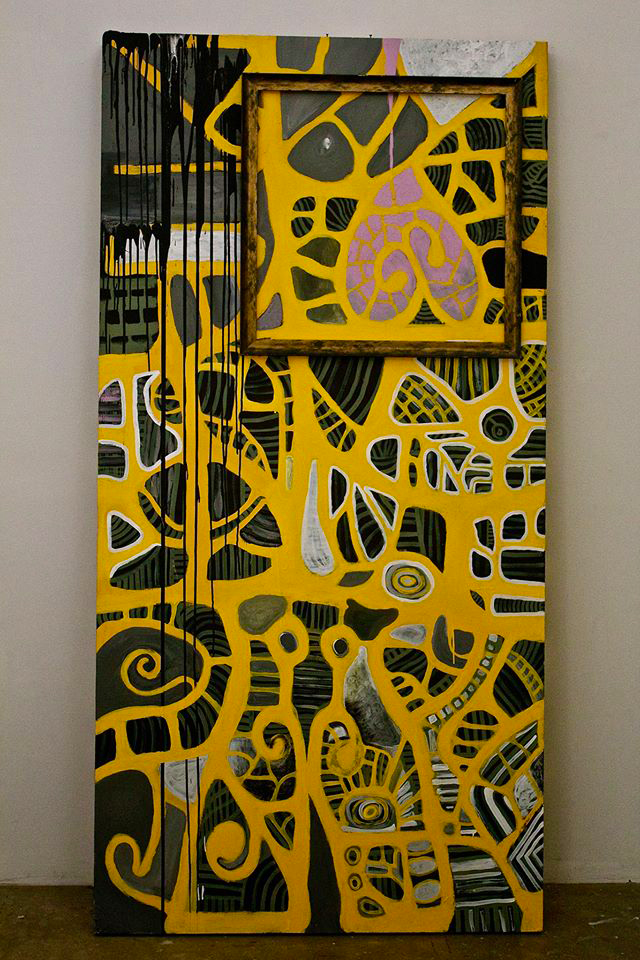 Matters Of The Heart 2013 Journey
Matters Of The Heart 2013 Journey Detail
Here we see a detail of the Composition closeup.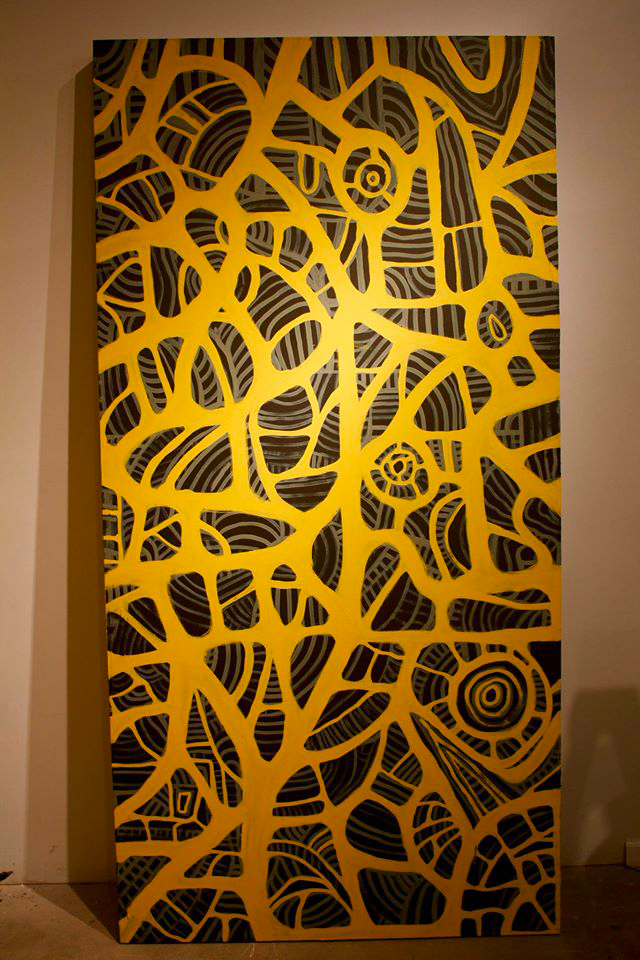 On Matters Of Lines and Direction
In composition On Matters Of Lines and Direction, we see yet again the multi-layered technique loyally employed by Jackson Shuri. The undulation of lines gives the impression that the artist is traveling. We see various shapes and patterns being woven, circles represents the cyclical nature of things, circle within circles starts to look like the artist is taking us down a vortex, focus here long enough and you feel drawn deeper and deeper into the world of Jackson Shuri.
We see a bit more green here as it represents life, renewal and growth. We start to feel the energy of nature taking over, look at this work long enough and you will find that your pituitary gland is stimulated as your body becomes more relaxed and your imagination takes you on a Safari of freshness as green is everywhere in nature. Images of fertile grounds comes to mind and this greenery now balance your eyes as you meet the yellow of the composition.
On Matters Of Lines and Direction we see uses of color play on your psychological state. The repetitive and plentiful nature of the green lines gives you the sense of regeneration as their curving, waving and slanting qualities makes you feel as though a lot is going on at the same time resulting in progressive production and multiplication. Green is the color of success and money.
The yellow of the composition warms you as it is laid over green in a protective manner warding off any ill that may come against green as yellow is extremely luminous, it is also the color of caution, often used to get your attention. Last but not least yellow is the color of our traffic lights, it encourages us to prepare for something. Was the artist preparing for something life changing when she made this work.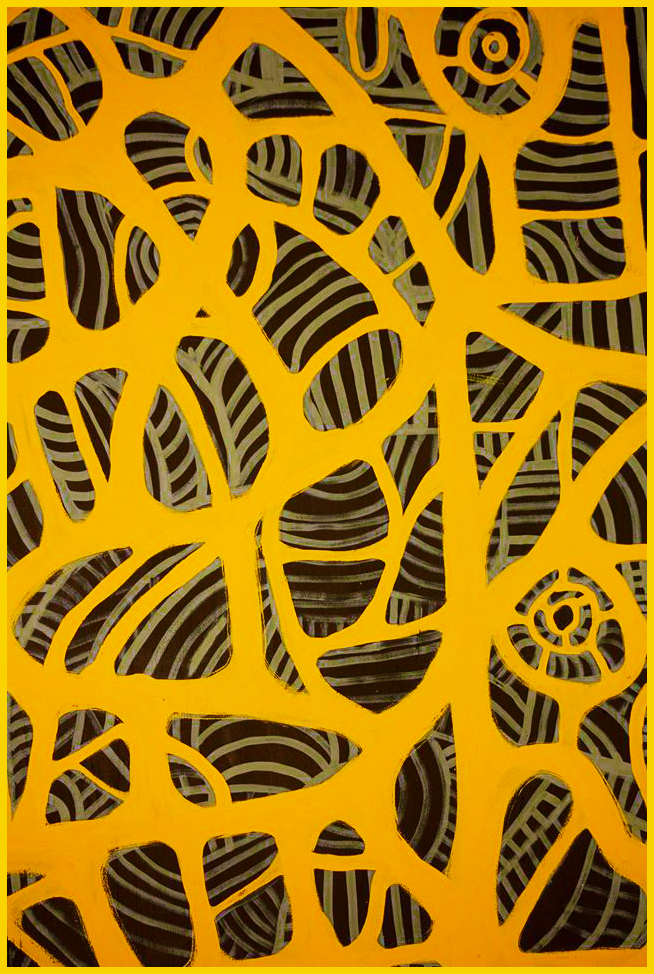 Detail of On Matters Of Lines and Direction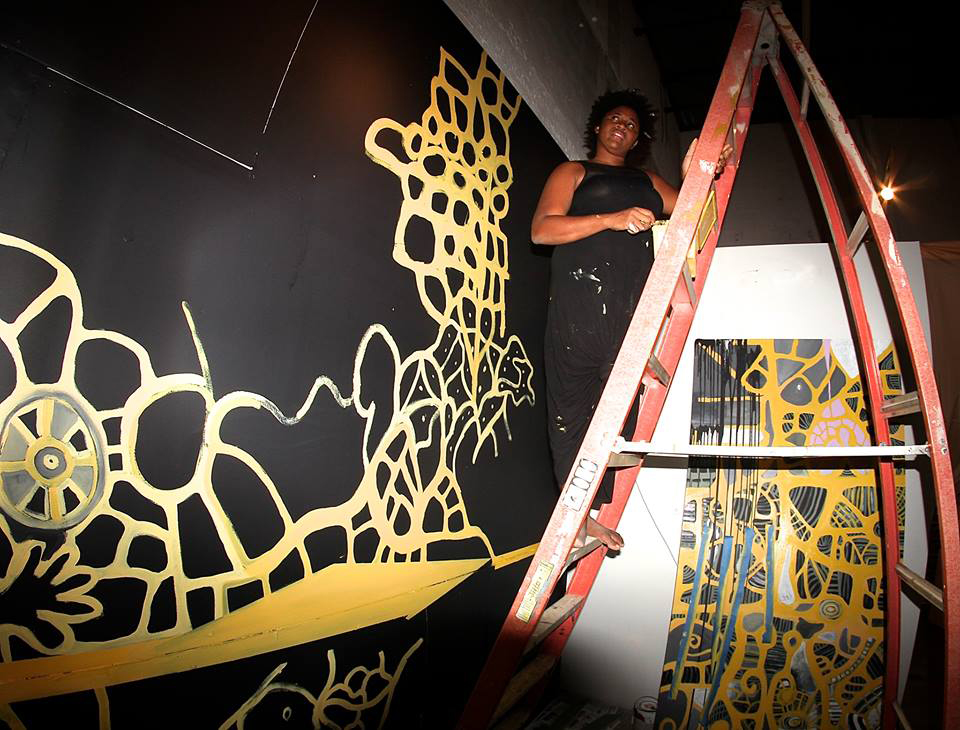 Start Of Wall Mural At Multitudes Gallery
Ok So here goes Jackson Shuri high in the air on this ladder, the tallest ladder she has ever mounted. Doing Here first art Basel installation.
MURAL First Phase Of Composition
Here you are looking at the first part of the multi-media multi layered mural Done by Jackson Shuri For Basel Miami 2013. This phase of the work served as a backdrop for the two 8'.4'' works created simultaneously to be layered on top. One sees animal forms, though not intentionally premeditated and painted by the artist. We also see from the top and undulating through to the bottom of the composition lines assisted by gravity.
Worm's Eye View
Artist Against Her Work... Priceless
Wide Angle Fish Eye View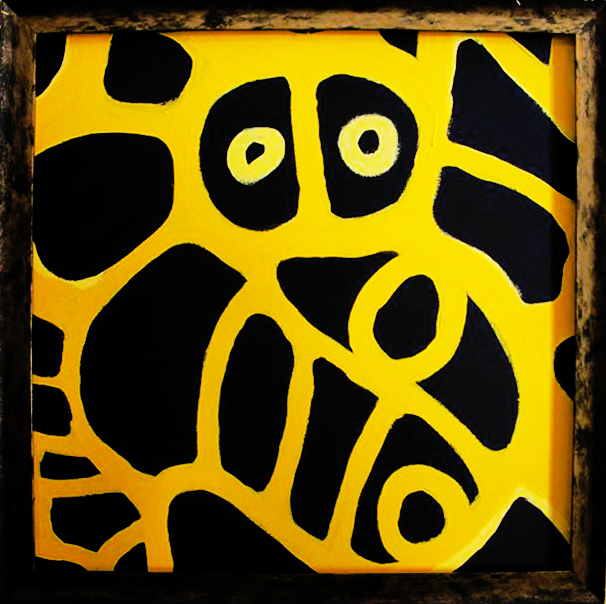 Framed Detail of The Mural
Viewing little sections closeup of the larger composition, we see what appears to be some type of animal looking back at us, The frame helps to accentuate this. The artist never set out to draw these forms. It's amazing to see what emerges as one allows the process of creation to autonomously develop.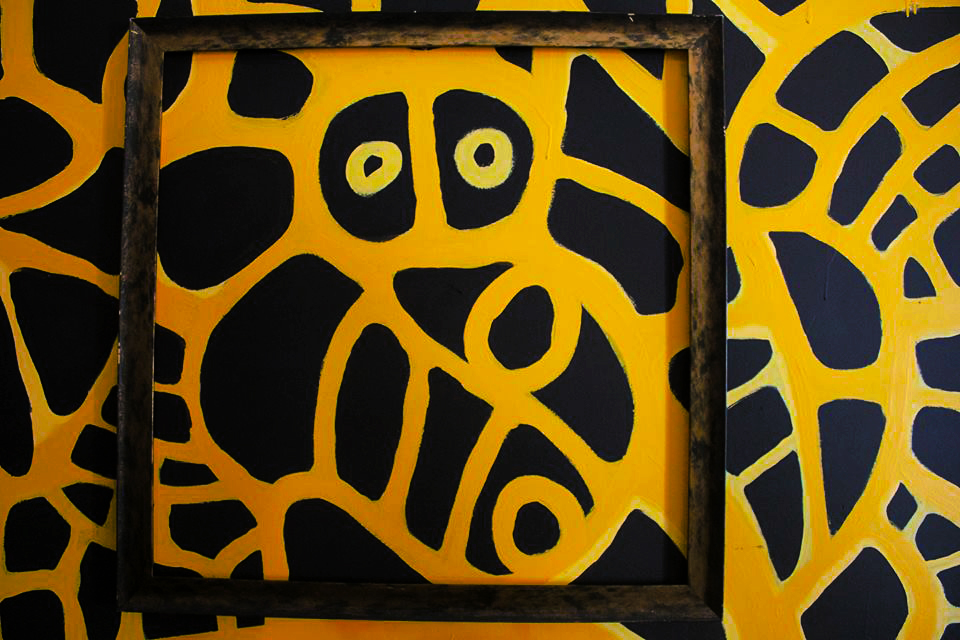 By Jackson Shuri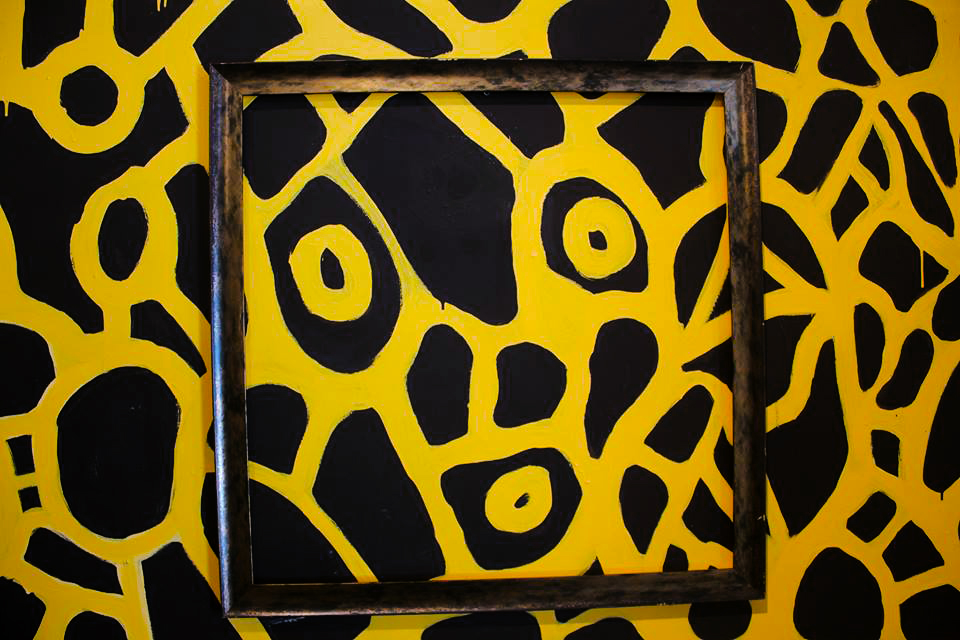 By Jackson Shuri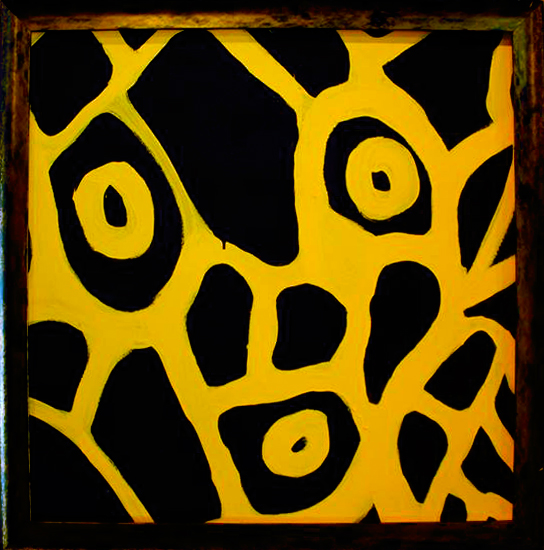 Framed Detail Of Face
When Viewing Art, it is important to take in the image from the general to the specific. Meaning, you look at the whole image, then zoom in on the details. You'll often see things you didn't see at first.
The beauty of Observation... Not JUST LOOKING, BUT PAYING ATTENTION TO DETAILS...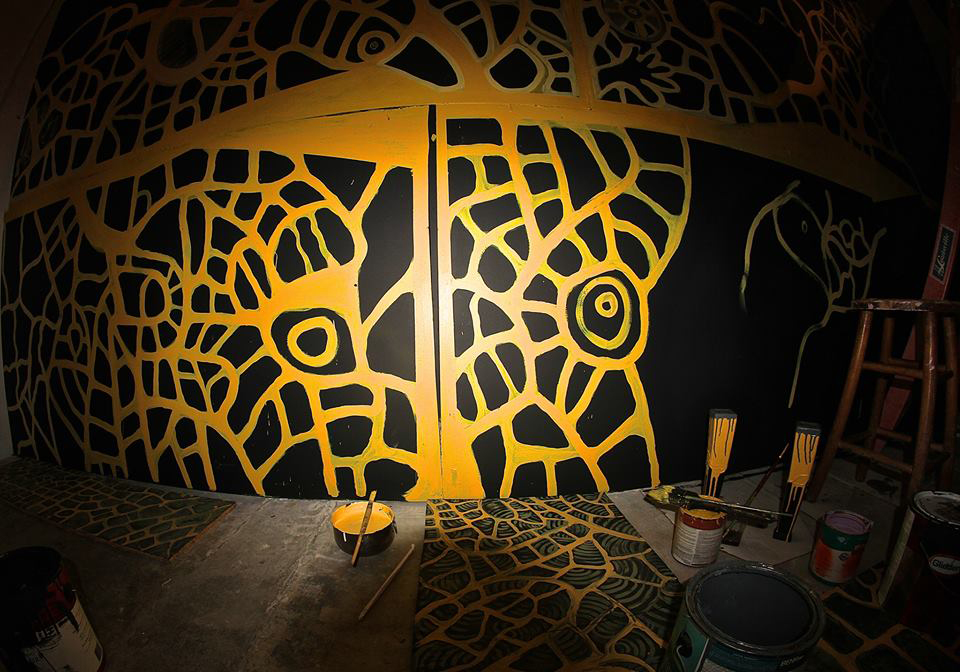 Lower extremity of the Mural
Here we see the Lower Extremity of the mural as it develops. It is important to show the process, most times the viewer, art appreciator, collector only see the finished product. It is believed that a deeper connection is felt when the development is experienced.
Perspective By Jackson Shuri
It is nice to take the work out into the natural night and photograph it with nature being its background.
Deep Contemplation
Jackson Shuri is photographed in contemplation as she works on finishing the mural for her first #Art #Basel Installation in Miami Florida. Photo Curtesy of #marron1804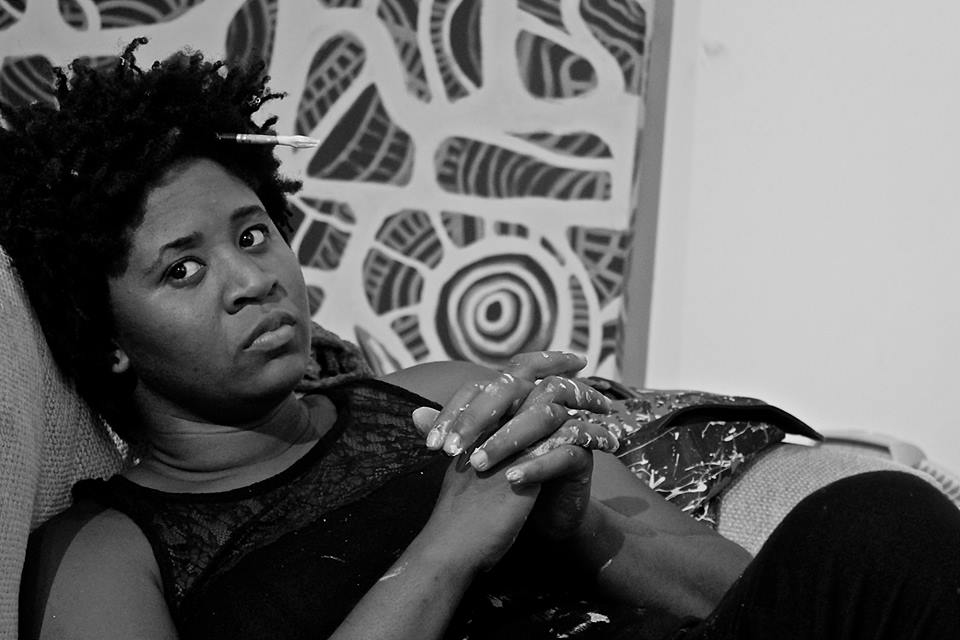 Jackson Shuri Relaxing and Reviewing Mural
I was so pleased to have my photographer Capture these moments of thought.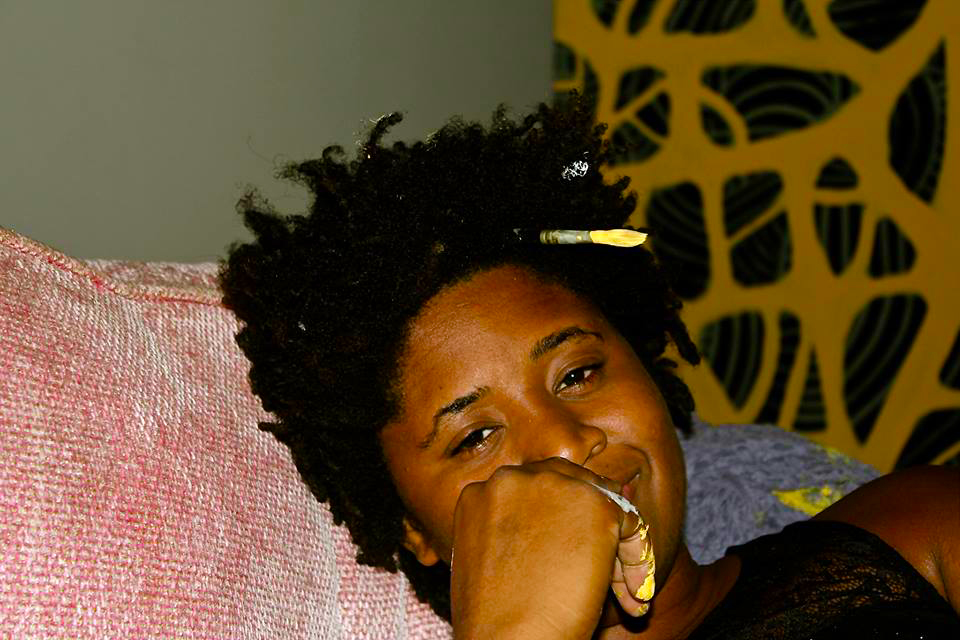 Jackson Shuri Smiling
Pink couch in the photograph is where the artist slept as She tirelessly worked on this Installation project. She is seen her with the most convenient place to place the brush when its not active.
Jackson Shuri & Joseph Wilred Daleus
Receiving the support of fellow artist on opening day.
Here we see Jackson Shuri With Joseph Wilfrid Daleus, a celebrated Haitian artist.
Receiving the support of fellow artist on opening day... Priceless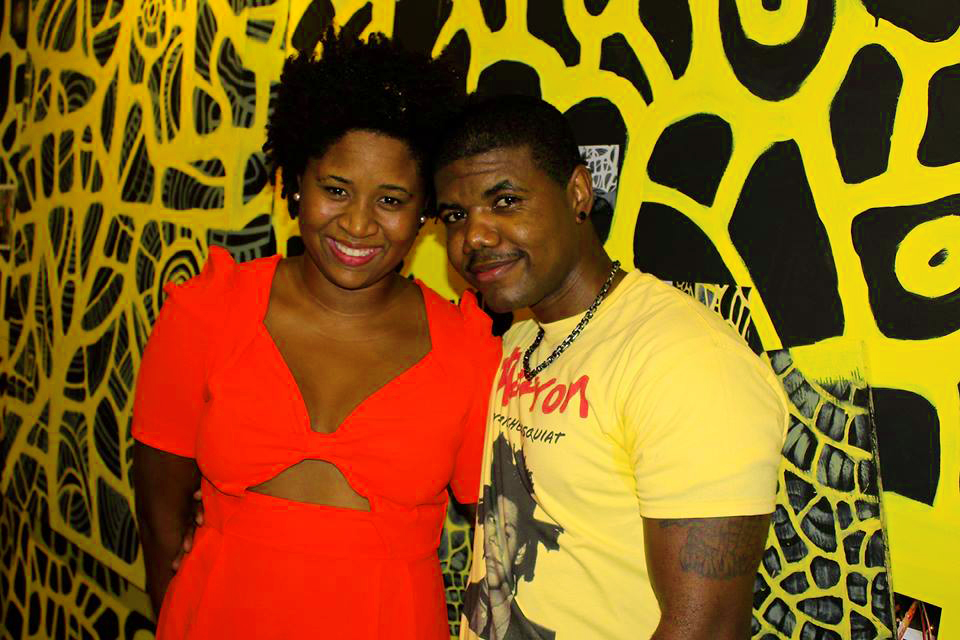 Receiving the support of fellow artist on opening day... Priceless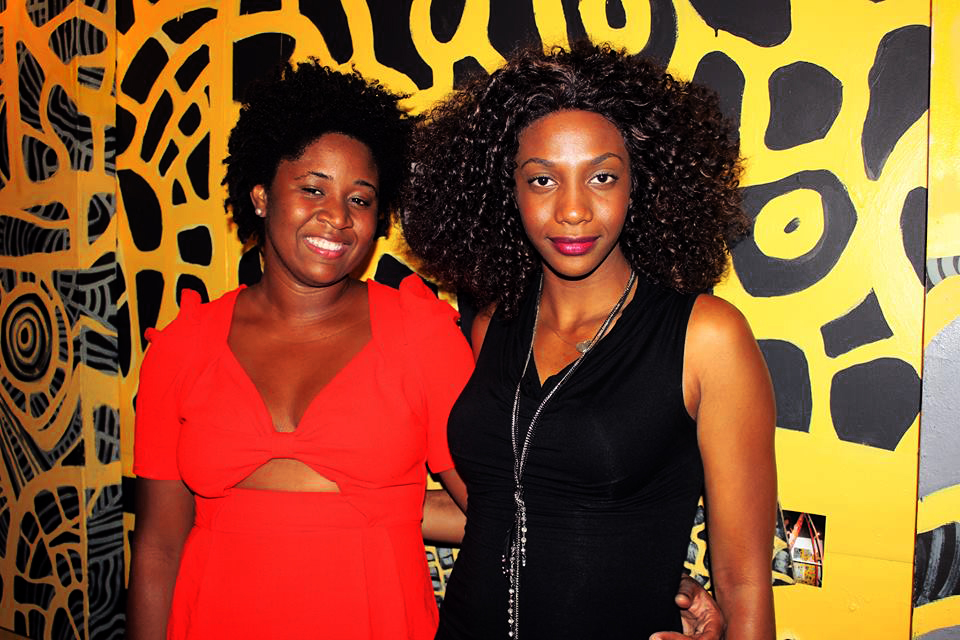 Receiving the support of fellow artist on opening day... Priceless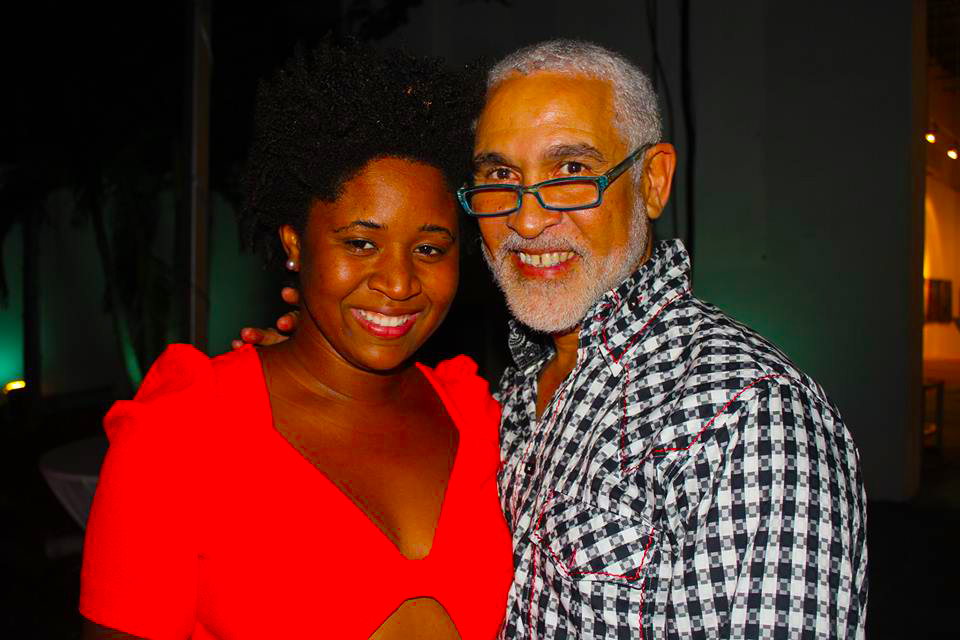 Jackson Shuri & Philippe Dodard
World Rrenowned Haitian Artist Showing support.
Installations
Jackson Shuri's installation for Art Basel Miami 2013.