Briched detail By Jackson Shuri 2009-2011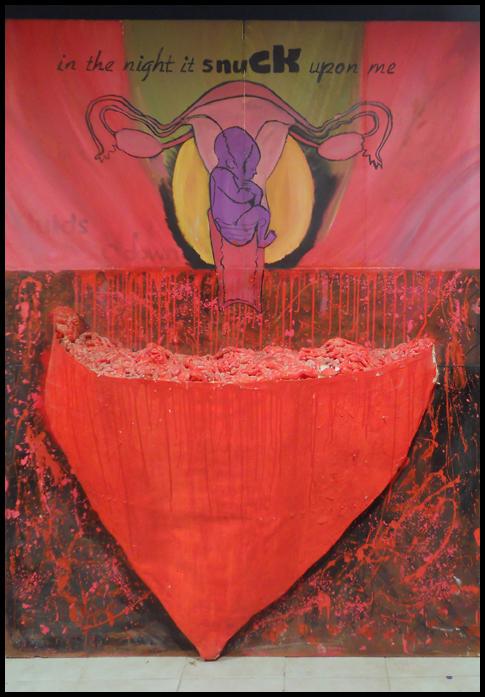 Briched By Jackson Shuri 2009-2011
PMS By Jackson Shuri 2009
PMS (Premenstrual Syndrome), was inspired by the many emotions and hormonal changes experienced by women close to being on their cycle.
Mixed media on Canvas
30".30".5"
2009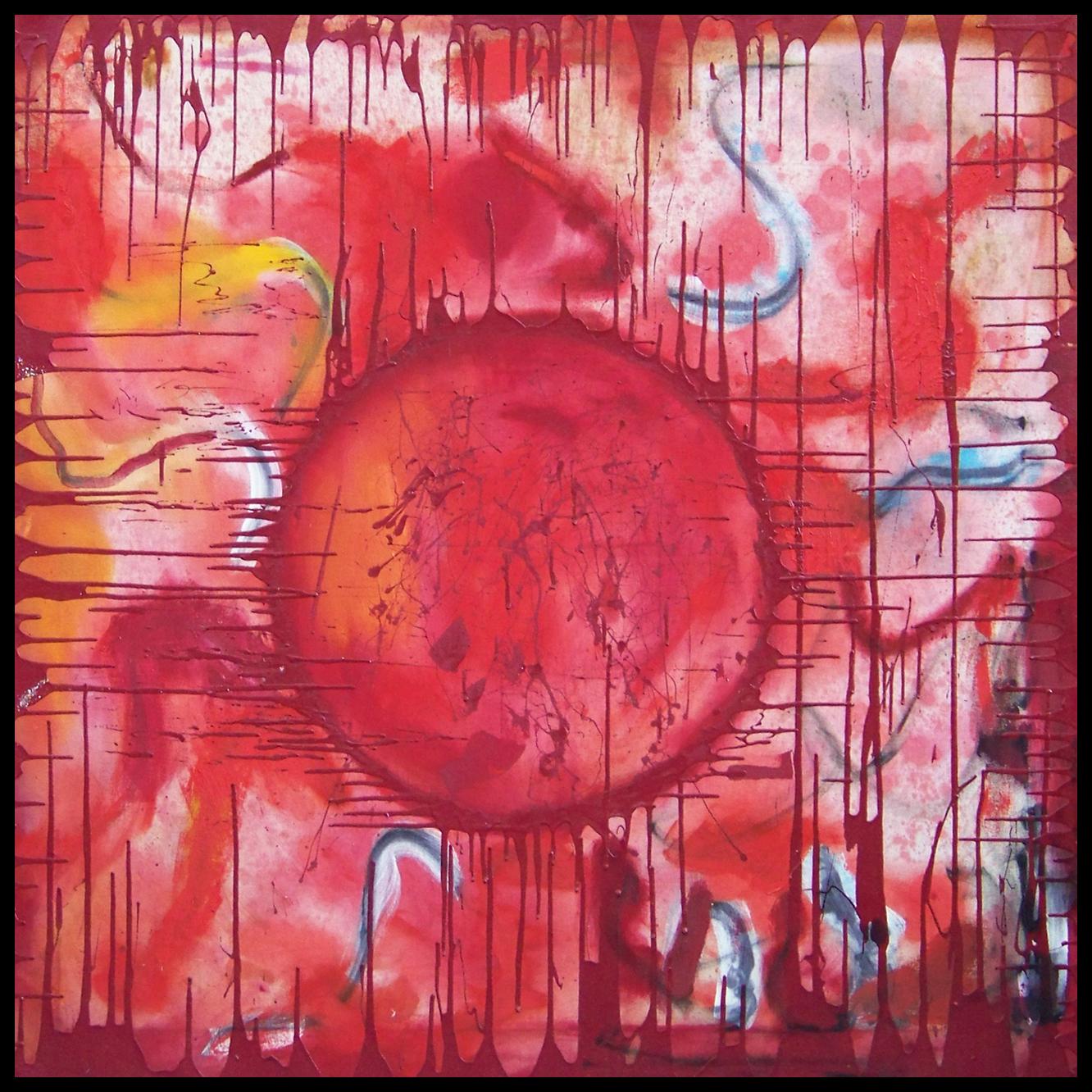 Moon Time (Euphemism) Jackson Shuri 2009

Moon Time is a Euphemism for being on ones cycle.
Jackson Shuri
Mixed Media on Canvas
42".42".1.5"
2009
Available
Ritual Love By Jackson Shuri 2009-2014
I took your Hand and now we are one. Blood flows from you and it flows from me. Some find it strange that I care to share by inflicting this wound that cause pain and blood to flow from my penis. Others marvel at this cultural act that seems barbaric, but this act strengthen our marriage and seals our spirits. - Poem By Audrey T. Jackson and Jackson Shuri. Made especially for this work.
This work was inspired by a story I read where an aboriginal man would cut his penis each time the wife was on her cycle so that they would be sharing in the experience.
Jackson Shuri
Mixed Media on Canvas
42".42".1.5"
2009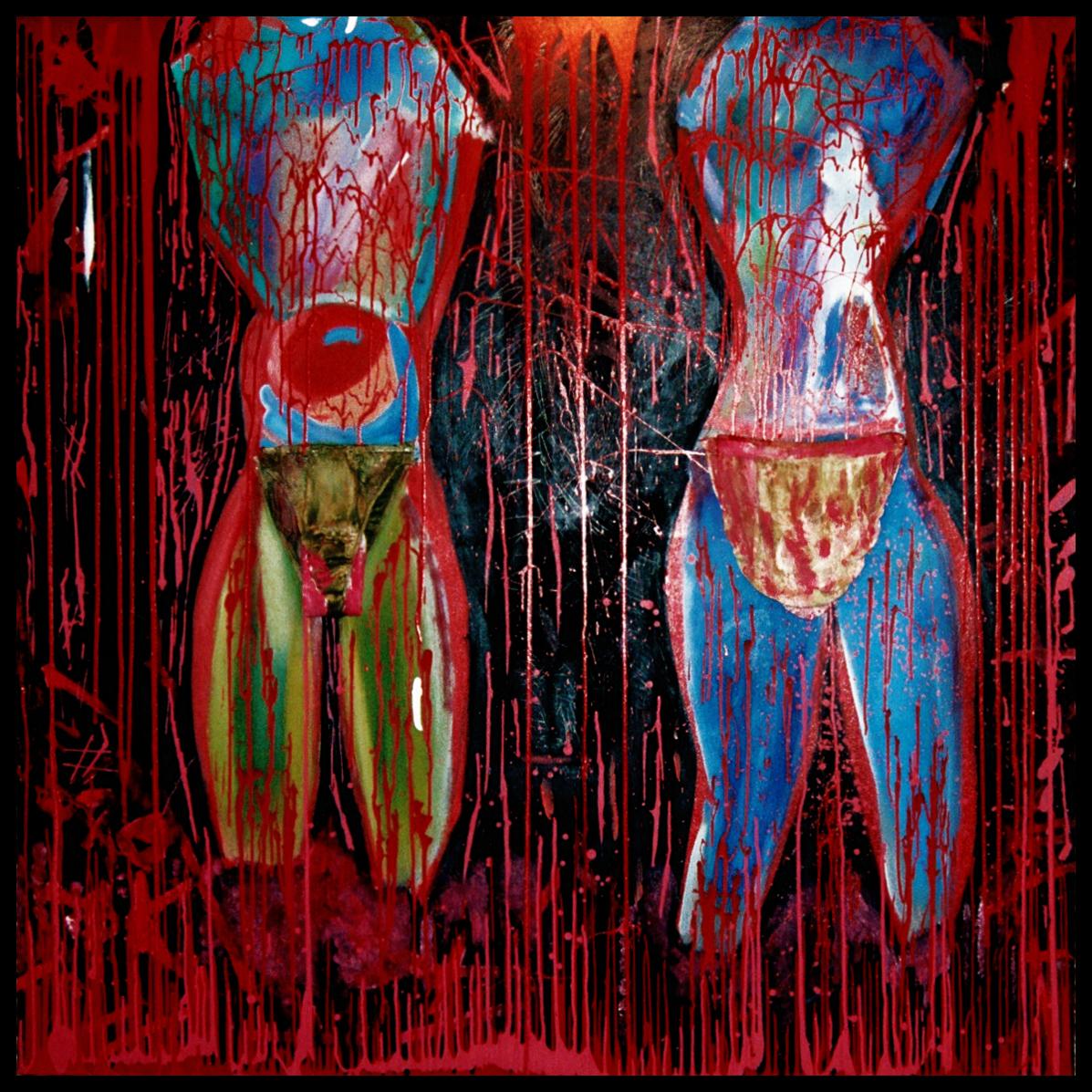 FGM ( Female Genital Mutilation) Artist Baggies By Jackson Shuri 2009
FGM ( Female Genital Mutilation) Artifact of the artist.
FGM is fucking barbaric and a freaking violation and invasion!
Being a woman of the African Diaspora I am applaud at this ignorance. This work is in obvious protest of this heinous act. "Female genital mutilation (FGM), also known asfemale genital cutting and female circumcision, is the ritual cutting or removal of some or all of the external female genitalia. The practice is found in Africa, Asia and the Middle East, and within communities from countries in which FGM is common."
Jackson Shuri
Mixed Media On canvas
2009
63" X 63" ".5"

Available
Hysterectomy By Jackson Shuri 2009
A hysterectomy is a surgery to remove a woman's uterus (also known as the womb). The uterus is where a baby grows when a woman is pregnant. During the surgery the whole uterus is usually removed. The doctor may also remove your fallopian tubes and ovaries.
This work was Inspired by stories my mother told me about fibroids, and heavy bleeding that lead to her having an hysterectomy.
Jackson Shuri
Mixed Media On canvas
2009
58".58".5"
Welcome To WomanHood By Jackson Shuri 09-2011
Welcome to Womanhood:
Womanhood- In many cultures, a girl becomes a woman when she start bleeding, if this is the case, then, womanhood is the time between puberty and a girl's first menstruation. This work is a celebration of womanhood, boldly proclaiming the arrival of this special moment. Through the pussy formally known as the vagina comes life, the vagina also gives immeasurable pleasures, it has the power to inspire as well as start wars and conquer nations.
Jackson Shuri
Mixed Media On Canvas
63" x 63".5"
2009 2011
11, 000
Available
The Power Of The Gathering 2009-2011 By Jackson Shuri
Pink marks the movement globally. Pink for breast cancer awareness, hot pink for passionate gay sex, and pink for girlish folly. "The color pink is the color of universal love of oneself and of others. Pink represents friendship, affection, harmony, inner peace, and approachability. Pink is the official color for little girls andrepresents sugar and spice and everything nice."
This work started off as a menstrual hut, but morphed into something more UNIVERSAL AND SPIRITUAL. It features a central hut and a gathering of women, some pronounced some ghosted. Take special not of the rainbow flag in the lower right corner.
55.5'' x 67''
Mixed Media On Canvas
2009-2017

Available
Feminine Project
All things sexual reproductive as it pertains to women.